Toro Edger Carburetor Repair Kit
Item # 1606506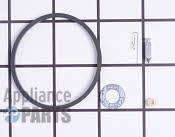 Tecumseh carburetor repair kit. If the carburetor is clogged, the engine won't get enough fuel. As a result, the engine may not start or may run poorly.
Genuine OEM Part - Manufacturer #631021B
$6.18
Order by 3:00 PM ET and choose FedEx 2Day or FedEx Overnight shipping, this part ships TODAY!
Add to Cart
Item # 1641006
Carburetor rebuild kit. Briggs & Stratton recently eliminated carburetor nozzles from various kits as a running change. Carburetor nozzles are still available for purchase by using your model/type number if needed.
Genuine OEM Part - Manufacturer #398992